New review from Seafish looks at UK seafood supply chain from January to March 2021
Seafish has published its latest review into how the impacts of Covid-19 have been felt across the UK's seafood supply chain. The latest report from the public body that supports the UK seafood industry covers January to March 2021.
It was a period of uncertainty and volatility for many UK seafood businesses as Covid-19 infections increased and restrictions remained. New requirements to trade with the EU also came into effect. Many exporting businesses experienced major disruptions in January and February, with increased transit time and cost still being an issue to the end of March.
Commenting on the report Aoife Martin, Director of Operations at Seafish, said:
"Adjusting to a new trading environment has caused major difficulties to many seafood businesses in the UK. Some issues, such as those faced by live bi-valve mollusc producers, have been particularly severe and well documented. But many businesses have faced disruption on a lesser scale, such as getting to grips with new paperwork requirements as well as experiencing logistical issues and delays.

"On top of this the industry has continued to deal with the challenges of operating during a global pandemic. While to some extent the disruptions caused by Covid-19 have become 'the norm', the ongoing impact on businesses across the sector should not be underestimated.

"However, the continuing strong performance of seafood in retail and the remarkable recovery of the fish and chip sector are positive signs. Businesses throughout the seafood supply chain are hopeful that domestic markets will continue to improve as restrictions further reduce."
Combining real-time insights from seafood businesses with quantitative data, the quarterly reports aim to give businesses, organisations and government a fuller understanding of how the impacts of Covid-19 have been felt along the seafood supply chain. Key findings highlighted in this January to March 2021 report include:
Businesses trading with the EU experienced major disruptions and delays due to new trading requirements and logistical issues.
Shellfish exporters saw the greatest disruption, with live bivalve mollusc producers in class B and C waters unable to sell into EU markets.
Retail sales dropped back year-on-year from the unprecedented levels seen in March 2020 but remained strong, continuing to outperform sales in recent years.
Lockdown meant that foodservice businesses were limited to takeaway and delivery trade. Fish and chip shop trade recovered to pre-pandemic levels.
Processing businesses faced a range of supply and demand constraints.
Many UK businesses reliant on seafood imports did not face significant sourcing issues, having stockpiled frozen material in 2020.
Covid-19 continued to impact the workforce, but increased asymptomatic testing helped control the spread of the virus in processing environments.
The catching sector was affected by depressed markets, including those targeting shellfish species.
Aquaculture businesses continued to deal with the impacts of disruptions in production cycles that began in early 2020.
Although the UK's seafood supply chain faced many challenges in the period, the report also explores the remarkable recovery of fish and chip shops. While there was some recovery across takeaway generally later in the quarter, strong growth in the fish and chip shop sector saw trade return to pre-pandemic levels. Visits were only 0.2% below the same period of the previous year. In the early stages of the pandemic, fish and chip shop visits had been down 77% (April to June 2020 compared to 2019).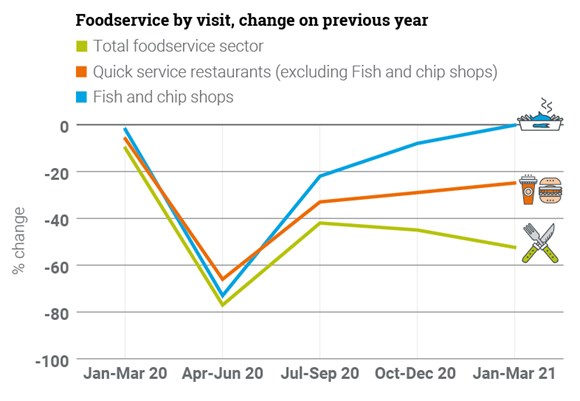 The early part of the year is usually a quiet time for fish and chip shops, but some businesses reported unusually high sales. Many fish and chip businesses have adapted during the pandemic and have implemented new ordering options, such as home delivery, click&collect and 'drive-through' to attract customers.
Competition across the foodservice sector is expected to return as restrictions continue to ease and more dining in options return. However, demand for fish and chips is expected to remain strong as many opt for staycations and holidays closer to home. A new campaign from Love Seafood – the consumer brand from Seafish – celebrating fish and chips will run in July and August.
Commenting on the strong performance of the industry Andrew Crook, National Federation of Fish Friers (NFFF) President said:
"These figures from January to March show a remarkable recovery for the UK's fish and chip shops. Operators have adapted throughout the pandemic just to be able to open safely. These results are testament to their hard work and willingness to innovate around ordering and delivery options.

"We appreciate that other parts of foodservice being closed could have played a part in the recovery of the fish and chip sector. Competition will continue to increase as more of the sector reopens, although fish and chip businesses offering dine-in will also benefit from the easing of restrictions.

"Although sales figures look good, the industry has also picked up a lot more operating costs in the process of adapting to new technology. We are also experiencing many increases in the cost of our supplies. With the proposed gradual return to 20% VAT we are facing a very difficult time ahead, as it will be difficult to increase our sale price sufficiently to cope with the increases in costs.

"As a sector we are hoping for a good summer season and will be supporting the Love Seafood campaign celebrating the nation's favourite takeaway. Fish and chip shops across the UK will be ready to welcome holiday makers and we hope those staying at home will also support their local chippy."
This is the fourth and final report in this series from Seafish.
Aoife Martin continued:
"We have now produced four reports focussing on the impact of Covid-19 on the UK seafood supply chain for the last year. As the industry continues to manage the pandemic and other challenges, we will keep providing useful economic analysis and market insight on the seafood supply chain is responding."